Shirley Annette Northcutt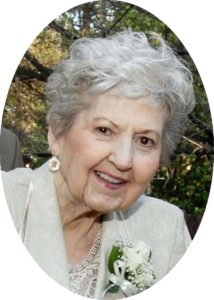 Shirley Annette Northcutt, age 79, of Alabaster, AL,  joined her husband to be with the Lord, Tuesday, August 2, 2016.  Shirley was a beautiful, vibrant, artistic woman who was and always be loved. She was predeceased by her husband J. P. "Pete" Northcutt.  Her survivors include daughter, Cindy Northcutt Seagle (Keith); son, Mark Northcutt; grandchildren, Erin Surrock (Thomas), Justin Seagle (Lucy), Ryan Northcutt, Alex Northcutt and  Dylan Northcutt; great grandchildren, Koltin Northcutt, Ivy Surrock and another great granddaughter arriving in January 2017.  The family will receive friends,
6-8 p.m.
,
Thursday,  August  4, 2016
at Charter Funeral Home.  The Funeral Service will be
11 a.m.
,
Friday, August 5, 2016
at the funeral home.  Burial will be in Cedar Grove Cemetery in Maylene, AL.