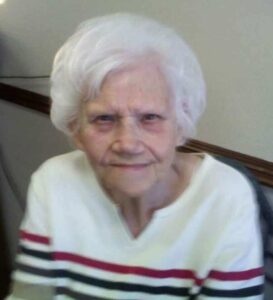 Sarah Gann passed away peacefully on April 1, at age 91 with her family at her side. Predeceased by her loving husband Lewis C. Gann Jr. in 2000; son, Clarence Neal Gann in 1974; son, Lewis Gann III in 2000; daughter, Phyllis Jean Gann in 2018. Survived by her daughter, Brenda Castleberry of Arlington, Texas; daughter, Tina Hicks (Glenn) of Warrior, Alabama; son, Joe Gann (Ann) of Calera, Alabama; 16 grandchildren, 29 great grandchildren and 3 great great grandchildren.
Sarah was born in 1928, in Birmingham, Alabama. She was one of six children born to Marshall and Cordie Bradshaw. Sarah started working at age 15, as a cashier at a five and dime store in Birmingham. Then, at 19 years old, Sarah went to work at New Ideal Department Store as a gift wrapper.  At age 24, Sarah began working at Hill's Food Stores as a meat wrapper, then, went to work at Bruno's Grocery Store as a meat wrapper and baker. She wrapped meat for 35 years before she retired in 1987, at the age of 59 years old. She loved to cook big meals for her family; bake amazing coconut cakes; play Bingo and the slot machines, read Harlequin Romance novels and volunteer at the American Legion. In December 2008, Sarah moved to Arlington, Texas to live with her daughter, Brenda. She will always be remembered as Nanny Gann to everyone who knew her.
There will be no service at this time. Sarah will be laid to rest at Elmwood Cemetery next to her beloved husband of 54 years.
Charter Funeral Home entrusted.