Robert "Bob" Mallory Logan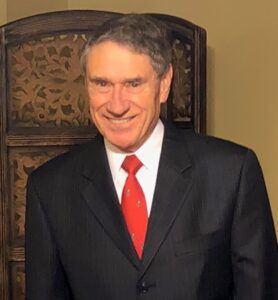 Robert "Bob" Mallory Logan, 74, of Helena, passed away on February 1, 2021 after battling with COVID. He is survived by his wife, Kathleen Hamm, and three children: William R. Logan (Tina), Birmingham; Heather L. Logan, Nashville; and Scott M. Logan (Sarah), Atlanta, and stepson Talal O. Bawazir, Saudi Arabia. He is also survived by eleven grandchildren: Christina M. Logan, Erin M. Logan, Xavier L. Singh, Alexander J. Singh, Emma L. Logan, Ethan D. Logan, Grayson N. Logan, Daniah T. Bawazir, Tariq T. Bawazir, Marya T. Bawazir, and Walid T. Bawazir. In addition, he was blessed with two great-grandchildren: Tyler M. Furgason and William P. Logan. He is also survived by a sibling, Kathryn Logan, Oregon.
Born in Rushville, Illinois, Bob grew up in a musical family and celebrated that heritage throughout his life, passing it down to his children and grandchildren. He was an accomplished French horn player who delighted in sharing the classic marches of John Philip Sousa and other composers with audiences large and small. His musical career began in the Air Force, where he was stationed at Wright-Patterson Air Force Base in Ohio and played in the Air Force Band. With engagements from coast to coast, his tour of duty allowed him to immerse himself in the music he loved, but even after his time in uniform, music remained a steady companion in his life and his family's life. No July 4th celebration was ever complete until he played "Stars and Stripes Forever," a favorite memory for each of his children. After moving to the Birmingham area, Bob joined several brass ensembles and continued to play professionally. Even in his last days, he could be found listening to brass ensembles on YouTube and planning for the day when he could play again.
The only love in his life greater than music was his family, to whom he was a loving husband and a devoted father, grandfather, and great-grandfather. Though he could be shy in social gatherings, with his family he felt free to be himself—a quick-witted punster who loved nothing better than using word play to make people laugh. Even the occasional "groaner" inspired laughter simply because he was so proud of himself for coming up with it. Though distance at times separated him from his loved ones, he always found a way to be present when it mattered most. Three files full of mementos, collected throughout each of his children's lives, bears witness to his dedication. His commitment to being present also extended to his grandchildren, as he attended plays, graduations, recitals, birthdays, and other events whenever possible.
Nearly a decade ago, Bob retired from the sales team at Mercedes-Benz of Birmingham, but retirement life didn't suit him. In fact, he tried it two more times, just to be sure, but each time, he landed right back at Mercedes doing the job he loved, all the while making friends and earning respect for which he never gave himself credit. Though retirement clearly wasn't on the agenda, his later years brought him new joys, too. Somewhere along the way, he became an avid cat person, opening his home and his heart to a succession of feline friends, with Sheba and Velvet being the last to steal his heart.
His family plans to host a celebration of his life later in the year. In the meantime, they ask friends and loved ones to stay safe and join them in spirit during this time of grief. In lieu of flowers, the family requests donations be made in his name to the Alabama Symphony (https://alabamasymphony.org/give/donate) and the Nashville Symphony (https://www.nashvillesymphony.org/contribute/donate-now/), for they know that as long as the music plays on, his death is but a measure of rest in the piece.