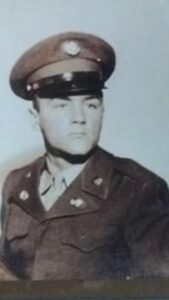 Another Korean War Soldier has gone to meet his Heavenly reward.
NORRIS, Malcom, 90 years old-
Passed away suddenly Monday afternoon- April 6, 2020-
Born on March 27, 1930- in Parrish, Alabama.
Norris served in the Korean War as a frontline combat soldier from Dec 15, 1948- Dec 18, 1951.  He was awarded three Bronze Stars, Korean Service Medal, and the Presidential Korean Citation Medal.
He was a very committed, dedicated  hard worker most all of his life. Norris was a retired truck driver and Security Officer.
There will be a Private Service of Remembrance of his life and service held for his immediate family on Thursday, April 9, 2020 at 3 pm at the Charter Funeral Home with the Reverend Melvin Massey officiating; followed by interment next week at the National Cemetery.
A public memorial service will be announced later for all family members and friends.
He is preceded in death by his wife, Della Jean Norris;  son, Garland Norris;  grandson, Kingsley Howell Walters;
granddaughter, Ava Rose Norris; parents-Barney Lee and Versie Norris, sister-Leatrice Ward, brothers-Carlos Norris and Norman Norris.
Survived by children- Penny Abernathy (Roger), Ronnie Norris (Dinah), Donnie Norris, Jenny Walters (Billy), Cindy Howton (Leroy), Donna Jarvis (Phillip) and Michael Norris (Nancy).
16 grandchildren and 18 great grandchildren.
Sisters- Edna Sue (Charles) Attaway, Helen Fowler,  Melvy (Julian) Thomas, Ruby Smith, Ruth (Tommy) Murphy. Brother-in-law-James Ward
We wish to thank the
staff and care-givers at the Col. Robert L Howard Veteran's Home in Pell City for their kind and compassionate care.
We love you and Salute you for being a great provider, teacher and protector! Now may you Rest In Peace until we meet again.