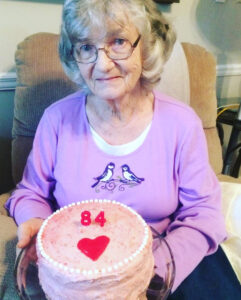 Marian was born in Russellville, Kentucky, December 28, 1935.  She is survived by her beloved of almost fifty-eight years, Bernard (Barney) Barnett; her sister, Cathy Chapman; six children – Randy Price, Mike Price, Janet Barnett Foley (Brian), Karen Johansson (Ray), Lisa Lichlyter (Phillip), and Becky Barnett; 13 grandchildren and 10 great-grandchildren.  She delighted in serving her family and praying for them. The only One she loved more was her Savior whom she met personally when she was five.  Now she is rejoicing in His presence forever.  Praise the Lord!
You are invited to join the family at Barney and Marian's home for a come and go time of food and fellowship after the graveside service at the Alabama National Cemetery.  Their address is 1218 Broken Bow Circle, Alabaster, AL 35007.
In lieu of flowers, please make donations to Samaritan's Purse https://sampur.se/38TE6Gk.