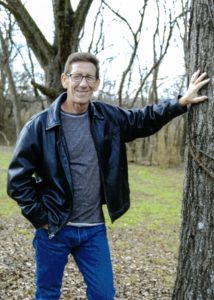 Larry Paul Harwell
March 15, 1966 – March 4, 2019
Paul, as he was known to friends and family, passed away peacefully the morning of
March 4, 2019 at his home after a very brief battle with cancer.
Services will be held Friday, March 8, 2019 at Charter Funeral Home in Calera, AL.
Visitation for family will be from 10:30-11 a.m.  Friends and family will be received from 11-1.
Services will begin @ 1 pm followed by interment at Pelham City Cemetery.
Paul was born March 15, 1966 to Eula Virginia and Harvey Flint Harwell and is survived
by his wife of 23 years, Tanya Gay Harwell and two daughters, Virginia Grace(16) and
Sandra Renae (14), Son: Kevin Marcus (Devin) Kimbrell, daughter: Kelsea Marie (John)
Tonna, Nephew: Brent (Natalie) Hinds, Niece: Megan (Andrew) Kirchner and Niece:
Camryn Hinds. He also leaves behind a beloved father in law: Harold (Eloise) Gay and
sister in law: Stacy Gay Hinds. Paul also leaves behind the mother of Kevin and Kelsea,
Cheryl Kirby, who has a special place in our lives.
He is preceded in death by his father, Harvey Harwell, his mother, Eula Virginia
Harwell, mother in law, Sandra Gay Burk, mother in law, Eleanor Kirby and family
Member by choice, Kerri Abernathy.
Paul was successfully employed as the Head Operator for the City of Pelham's Well
Operations for 22 years. He was a Thompson High graduate, Class of 1984, and
served in the Air National Guard for 14 years. As he was always trying to expand his
mind, he became involved with online groups focused on Life Coaching. Not only did
Paul obtain certification in this area, he also published several articles in relation to this
area. He was respected and admired by many, but humble enough to be the very last
one to know how his life affected and inspired others around him.
His father told me once "Paul is peculiar" and over 23 years I have discovered
that to be true and so perfect!!
A FATHER'S LOVE IS FOREVER IMPRINTED ON HIS CHILD'S HEART