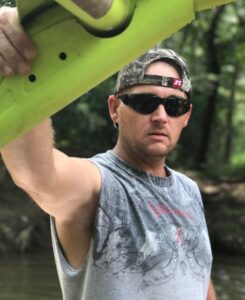 Jason Fred Howell, age 36, passed away Friday, October 9, 2020 in Chilton County. He is survived by his wife, Jennifer Lutz; step-children, Natasha Morgan (Harley), Tiffany Lutz (Devereoux), and Phillip Lutz; 6 grandchildren; 6 nephews and nieces; parents, Frances Lewis and Amos Howell; step-father, Leon McNeal; brother, Michael Howell (Amanda); and sister, Tonya Howell. He was a beloved husband, son, brother, step-father and pawpaw. Jason was an avid hunter and outdoors man. A hard and dedicated worker at Forterra Pipe and Precast in Pelham, Al for more than 10 years.
We will always love and miss you may you rest in eternal peace. Fly high sugar lump—
His services will be Held at the Charter Funeral Home Chapel Saturday, October 17, 2020. A visitation will be held at 1:00 p.m., followed by a service at 2:00 p.m. Jason will be interred in the Montevallo City Cemetery.