James (Jimmy) Edwin Whitburn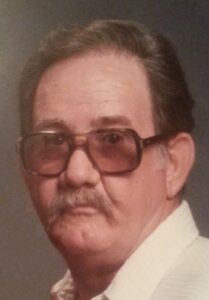 James (Jimmy) Edwin Whitburn
Age 83, of Wilsonville, Alabama, passed away on July 13, 2020, at home with his family.
Jimmy was born September 7, 1936, in Walker County, AL, the son of the late Margaret Whitburn Swindle. He has a younger brother, Jerry S. Whitburn (Shirley), living in Chuckey, TN.
He attended Ensley High School and then served in the USMC at Parris Island Camp Lejeune in the 1950s. After 33 years, Mr. Whitburn retired from Kimberly-Clark Corp and kept in touch with many of his buddies.
He is survived by his wife, Mary Cagle Whitburn; son, James Whitburn, Jr.; daughters, Midge (Thomas) Bagby of Niceville, FL, Cyndy Jennings (Irby Woodall) of Columbiana, AL, Tammy (Greg) Warren of Montevallo, AL, and Bette Nix of Montevallo, AL;
12 grandchildren:
Adam (Lisa) Lemley; Rachel Morrison; Kyle Morrison; J.P. Lemley; Marc Lemley; Christopher (Kelli) Moore; Carmen (Jaime) Pangman; Christopher (Jennifer) Nix; Samantha (Ryan) Smith; Timothy Warren; Camille (Ray) Ekbatani; and Patrick (Savannah) Bagby.
16 great-grandchildren:
Noah & Andrew Lemley (Adam); Emma Morrison (Rachel); Mason, Annabelle, & Ronin Morrison (Kyle); Zoey & Abbey Moore (Christopher M.); Scarlett Pangman (Carmen); Levi Nix (Christopher N.); Noah, Zoe, & Tucker Smith (Samantha); Norah, Colin & Baby Ekbatani (Camille).
Many can relate to the sometimes humorous, sometimes tragic events and side effects associated with dementia. Jimmy aka PaPaw aka Dadburn, was born a show-off and a daredevil and he has provided much entertainment for anyone who ever met him. Even with dementia he was no less entertaining, making his loved ones laugh and cry. O-M-G! He could drive at night without the headlights on, paid with a hundred dollar bill at every establishment, told anecdotes from his wild years that were never meant for the ears of his offspring, and you would think that he wrote the lyrics to Fats Domino's "Blueberry Hill". He talked even more incessantly than before, if one can imagine. But it is so overwhelmingly sad when a father thinks his child is a volunteer healthcare worker, he sleeps 20 hours a day, and he can no longer read the books he once devoured. The physical decline is also a heart-breaking experience. It seems that dementia-related illnesses have become much too prevalent in our elderly population. It is horrible for the patient and horrible for their loved ones. We pray that more effective treatments and even a cure are found for this tragic disease. Please consider donating to Alzheimer's Association (act.alz.org/donate) in memory of James (Jimmy) Whitburn.
Those who knew and loved Jimmy Whitburn are left with memories of an unforgettable character.
Dadburn was an avid Harley-Davidson owner and rider with many trips under his belt to the Sturgis Motorcycle Rally of South Dakota. He was the happiest when he was riding tail gunner for the string of bikers he loved like brothers.
He knew how to work with his hands and loved to pass on his know-how and skills to others. As a matter of fact, he could "fix anything except a broken heart". He could do just about anything that he put his mind to do, and was known to invent the methods, parts, or tools needed. He repaired automobiles, appliances, and toys. He could climb trees, climb on roofs, and climb 100-foot towers. He could shape an ugly, old stick into a work of art. He could fell a tree, soothe a crying child, or blow up a dam. He could charm a nest of angry yellow jackets. He knew how to make his own fly fishing lures, load empty shotgun shells, and used his archery skills to kill a wild hog (which, to the dismay of his young children, he dressed as it hung from the top bar of the swing set.)
Jimmy would help anyone in need. It was nothing for him to stop traffic and help push a stalled vehicle off the road. For several years, PaPaw provided and pulled the equipment trailer for his grandsons' high school football games. He would carry an invalid in his arms to a doctor's appointment. If one of his daughters or sons-in-law asked for assistance, they had better be prepared to do it right now. When he was called for help, he would be there within minutes of the request.
Jimmy, or Daddy, knew how to control his brood. His distinct whistle would carry for a mile or more and his children and grands knew to drop whatever they were doing and hightail it to his presence with a "Yes, sir?". He also enjoyed playing with children. Whether it be roller skating, bike riding, swimming, building a fort, or driving a gang of wild young ones to Six Flags or Panama City Beach, he was usually game. And he was always the leader. He would make up the silliest songs to bring on the giggles. If you had big ears, fuzzy hair, or lost a tooth, watch out!
Let the music play and he would jump to the floor and begin his cute little shuffle. Any female within reach would be drawn in to dance (pronounced with a long "a" sound).
He had a corny, wonderfully charming sense of humour and his lack of a filter added to his personality. He could get away with doing and saying some of the darndest things. He loved to produce a head shake and a raised eyebrow. So many of his funnies were repeated over and over through the years. "He" never tired of anything "he" thought was funny. His favorite response was, "What?". Like he didn't know!
Jimmy never met a stranger. He was one to strike up a conversation with anyone; ANY ONE. Then, they were strangers no more. Everywhere he went, a holler of recognition was sure to go up.
And, he never got lost. He would tap his nose and say, "Seemore will lead me". He could drive to any destination as if he had a bird's eye view of the route. But you might want to strap in tightly if you rode along.
Mary was the love of his life and the affection of his younger heart never faded. Through all the trials and tribulations of life, they persevered. Every joyous moment was celebrated and cherished. Jimmy was indeed a determined man.
Because God gave man a free will, we are all born sinners and fall short of his glory. Jimmy Whitburn was a man with a lot of energy and a curious mind. He, like all of us, at times strayed from God's will. But God loved him as he loves all his children. Jimmy Whitburn was adored by family, friends, and acquaintances.
It is difficult to comprehend how such a vibrant, out-going life can come to an end. He seemed larger than life.
Every person who knew Dadburn has a story to share. If you have one that his family can add to the memoir of our hearts, please tell us.
A visitation will be held on Friday, July 17, 2020 at 10:00 a.m. with a memorial service to follow at 11:00 a.m. at Charter Funeral Home.  Mask are strongly encouraged to be worn at both the visitation and the service.  After cremation, Mr. Whitburn will have his ashes scattered by loved ones in Sturgis, South Dakota.
And we know that all that happens to us is working for our good
if we love God and are fitting into his plans. (Romans 8:28 TLB)