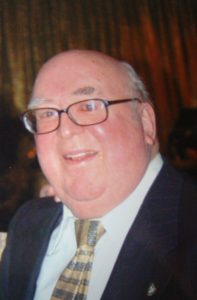 James Carter Denton, MD, of Birmingham died on September 21, 2017.   Dr Denton was born in Oneonta, Alabama on June 30, 1924 to Marvin and Charlsie Howard Denton.  He attended Auburn University (Alabama Polytechnic Institute), was a member and President of Theta Chi Fraternity, and graduated in 1945.  He attended Tulane Medical School, was a member and President of Theta Kappa Psi fraternity and graduated in 1948.
He completed an internship at Medical College of Virginia in Richmond Virginia. Orthopedic Residency was done and completed in 1953 at Jefferson Hillman Hospital in Birmingham. He served as a captain in the United States Army in Fort Campbell Kentucky from 1953-1955.  He returned to Birmingham to begin his active practice in Orthopedic Surgery at Baptist Medical Center Princeton until his retirement in 1986. He loved the practice of medicine and was involved in numerous medical organizations and societies which included Jefferson County Medical Society, MASA, American Board of Orthopedic Surgery, American Academy of Orthopedic Surgeons, Jefferson County Orthopedic Surgery Society, and served as President of BMC Princeton Medical Staff in 1973.
He is survived by his daughters, Diane Kimberly (Kim), Margaret Robins (Herb), Betsy Riser (Jim), Cindy Pomeroy (Phil),  Ricia Neura  Sides, and Heather Eldridge, his son, James Carter Denton, Jr.;  his grandchildren, Denton, Braun, Lyndsi, Cody, Carter, and Olivia; his great- grandchildren Hunter, Emily, Sydney, Ethan, Jacob, Chloe, and James, and his sister Frances Denton Gordon of Richmond VA.  He was a loving father and an inspiration to us all. He will be missed.
A private memorial service is to be set at a future date for the family at Oak Hill Cemetary  in Oneonta, AL.  In lieu of flowers, donations may be made to the Shelby Humane Society, 381 McDow Road, Columbiana, AL  35051.