Gladys Irene Frazier Van Brunt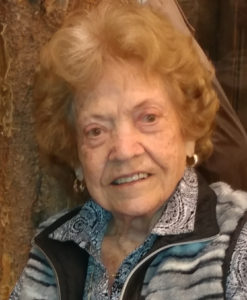 Gladys Irene Frazier Van Brunt
At age 92, formally of Columbus, Ga. Went to be with her Lord and Savior on November 4, 2018. Gladys was born May 1, 1926 in Moultrie, Ga. To Florence Fay Frazier and Albert Bruce Frazier. Gladys was preceded in death by her husband, James Hayward Van Brunt Jr. She was the youngest of 6 children all whom preceded her in death. She is survived by her daughter Abigail (Abby) (Van Brunt) Martin of Pelham, Al., Her grandchild Perry Wayne Martin Jr., and her great-grandchild Eleanor Abigail Martin, as well as several nieces and nephew.
Gladys graduated from Cairo High School in 1944 while working at the pickle plant in Cairo, Ga. Gladys married James Van Brunt Jr. October 31, 1947, the couple moved several times while James was in the U.S. Army and they finally found their home in Columbus, Ga..
While in Columbus, Ga. Gladys worked at Kirvens Department store for several years, upon its closing, she, moved to Doctors Hospital where she worked as a unit secretary. Upon the opening of Houston Sports Hospital in 1985 she worked as a unit secretary for Dr. Jack Houston and Dr. James Andrews until her retirement in 1996.
While in Columbus, Gladys was a member of Hillcrest Baptist Church of Columbus until it closed and she then moved her membership to Liberty Baptist Church of Columbus. Gladys was also a member of the Kiwanis International Club of Columbus.
In 2016 Gladys moved to Pelham, Al. to live with her daughter Abigail and son in law Perry Martin Sr.. A graveside service will be held Wednesday, November 7, 2018 at 2:45 P.M. at Alabama National Cemetery in Montevallo.