Floyd L Patterson, Jr.  "Pat"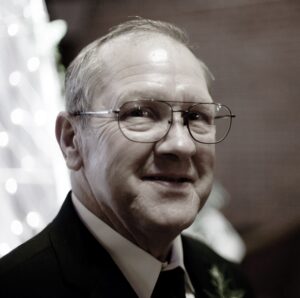 Floyd L Patterson, Jr.  "Pat"  age 75 of Hoover, AL (birthplace California) made the passage home on July 31, 2020. He was a dedicated and loving husband, father, and grandfather.  He loved to laugh and tell his jokes. He was proud to go to the Milton Hershey School in Hershey, PA and would gladly tell anyone who would listen all about it. You could almost always catch him with a Hershey bar or a peppermint but he was happy to share. He enjoyed collecting coins, Dr Peppers, and Alabama football. He was drafted into the Navy and served our country during the Vietnam era.  He spent most of his working life at AAA Cooper Transportation where he ultimately retired.  He loved  and supported his family fiercely. He will be remembered for his incredible sense of humor and infectious laugh.  His grandchildren adored their "PawPaw" and he adored them.  He even shared a birthday with Arianna. He is loved by his wife Peggy Patterson of 53 years; daughters Tammy Duren (Brent) and Debby Forester (Scott); and grandchildren Casper Duren, Arianna Duren, Haley Forester, and Holly Forester.
He will be laid to rest at the National Cemetery in a private ceremony.
During these times flowers are not permitted. In lieu of flowers please send donations to the Milton Hershey School.