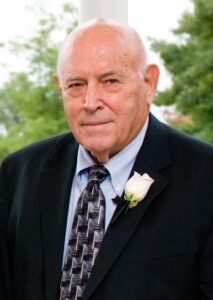 Mr. Harden, who went on to be with the Lord on Sunday, June 6, 2021. Eric was born in Brundidge, Alabama on December 17, 1932. He was a long time resident of Montevallo, and a member of Kingwood Church in Alabaster. His love for God was celebrated by all who knew him, and his great love for his family and people will be his legacy.
He is survived by his daughters, Beverly Barrett (Buddy) and Vanessa DeVane (Bill); sons, Derek Harden (Pam) and Mike Harden (Anita); sister, Nelda Price (Jack) and a host of grandchildren and great grandchildren. He is preceded by his wife, Ocye M. Harden, and his parents, Bryan and Winnie Harden.
Funeral services for Eric A. Harden will be held on Thursday, June 10, 2021 at 2:00 pm at Kingwood Church, 100 Harvest Way, Alabaster, Al. Visitation will be held two hours prior to the service with a burial to follow in Harless Cemetery.
Pastor Mark Sims will be officiating. In Lieu of flowers, donations can be made to the Kingwood Church Legacy fund.