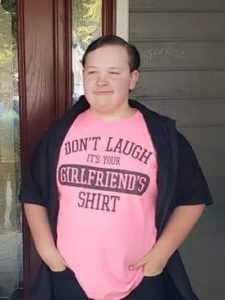 Trevor Austin Willis
September 27, 2000 – August 3, 2019
Trevor Austin Willis, age 18, of Helena, passed away peacefully while battling a long bought of Cancer (Ewing's Sarcoma), on August 3, 2019 in Birmingham at Children's hospital.
Trevor was born in Crown Point, Indiana to David Willis and Kimberly (Holmes) Willis on September 27th, 2000. Trevor was a 2019 graduate of Helena High School, in Helena, Alabama. Trevor attended Tulsa Welding School in Jacksonville, Florida since June 17th studying to be a future welder. Trevor sure enjoyed family, friends, Camp Sam and the simple things in life: reading multiple books, playing in the band, welding and chatting with his friends on the phone. Trevor had an uncanny ability to always put a smile on your face, even with what he has gone thru over the past 13 years.
Trevor is preceded in death by Elizabeth Diana (Watson) Holmes Grandmother and Dennis Keith Willis Grandfather.
Trevor is survived by Dallas Christopher Willis (22) brother, Brandon Alexzander Willis (16) brother, David Charles Willis Father, Kimberly Dawn (Holmes) Willis Mother, Grandparents Jane & Jerry Strickland, Terry Willis and Robert Holms Sr.
Family, friends, and others whose lives Trevor touched are invited to the Riverpoint Church, 375 Bearden Rd, Pelham, AL 35124, from 10 a.m.-12 p.m. on Saturday, August 10th, 2019 for visitation with service to follow, with Bobby Lewis of Riverpoint Church, officiating.
In lieu of flowers please donate in Trevor's Name to Camp Smile A Mile out of Birmingham, AL.
The family of Trevor Austin Willis wishes to extend our sincere thanks to Doctors and Nurses at Children's of Birmingham and Doctors and Nurses at Comers Children's Hospital in Chicago, IL